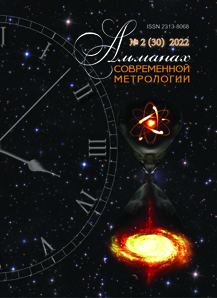 Important issues of the metrology development are raised in almost all sections of the current number — No. 2 (30) — of our almanac. We are talking about such important sections as "Measurements of time and frequency", "Navigational measurements", "Radio engineering measurements", "Hydroacoustic measurements", "Measurements of ionizing radiation parameters", "Physical-mechanical measurements", "Measuring devices. Problems of import substitution".
Separate sections are devoted to the issues of standardization and methods of calibration of measuring equipment.
The issue ends with materials under the heading "Founders of metrological trends", which talks about one of the most famous women metrologists in the field of ionizing radiation — a veteran of the Great Patriotic War and a labor veteran who did a lot for the professional growth of young scientists — Nina Filaretovna Zhdanova, as well as about one of the leading experts in the field of optical-mechanical devices of a wide profile — Shkrob Vitaly Mikhailovich.
CONTENTS
PREFACE OF THE CHIEF EDITOR
S.I. Donchenko
Continuous updating of the reference base is the primary objective of metrological institutions ……. page 8
I. MEASUREMENTS OF TIME AND FREQUENCY
Yu.S. Domnin, A.I. Magunov, V.G. Palchikov
The role of non-resonant laser transitions in the formation and detection of a cesium beam in an atomic fountain ……. page 10
II. NAVIGATIONAL MEASUREMENTS
S.S. Donchenko, R.A. Davlatov, E.A. Lavrov, D.A. Sokolov, I.O. Skakun
Results of analysis of the possible application of the Fabry — Perot resonator in a laser interferometric inter-satellite ranger from the "SOIGA" space gravitational wave antenna ……. page 20
S.S. Donchenko, R.A. Davlatov, E.A. Lavrov, D.A. Sokolov, I.O. Skakun
Results of mathematical modeling of gravitational disturbing forces in GLONASS orbits affecting satellites zero-drag of the "SOIGA" space gravitational wave antenna ……. page 35
III. RADIO ENGINEERING MEASUREMENTS
V.A. Tishchenko, V.I. Lukyanov
Methods for determining the calibration coefficient of measuring antennas ……. page 45
IV. HYDROACOUSTIC MEASUREMENTS
A.E. Isaev, A.M. Polikarpov, B.I. Khatamtaev
Experimental determination of the acoustic center of a measuring hydrophone ……. page 56
V. MEASUREMENTS OF IONIZING RADIATION PARAMETERS
O.I. Kovalenko, V.P. Tenishev
Absorbed dose monitoring radiochromic film systems for intense photon and electron radiation processing technologies ……. page 72
VI. PHYSICAL-MECHANICAL MEASUREMENTS
A.E. Aslanyan
The effect of deviation from the cylindricity of the gap between the piston and the cylinder on the reproduction of pressure by a nominally cylindrical piston pair from the composition of a piston-cylinder pressure gauge ……. page 84
P.V. Sorokina
Metrological investigation of a standard system for reproducing Knoop hardness numbers ……. page 89
VII. MEASURING DEVICES. PROBLEMS OF IMPORT SUBSTITUTION
A.V. Aprelev, N.I. Pivovarova, S.O. Plotnikov, M.A. Apreleva
Analysis of the content of the Federal Information Fund for ensuring the uniformity of measurements regarding oscilloscopes ……. page 94

VIII. STANDARDIZATION ISSUES
K.V. Epifantsev
Development of new generation machine-building standards to realize the prospects of the high-tech industry — "Industry 4.0" ……. page 102
X. CALIBRATION METHODS
K.V. Epifantsev, N.Yu. Efremov
Features of the calibration of the contourograph and typical mistakes of students in preparation for the demo exam in the competence "Digital metrology" ……. page 117
XI. THE FOUNDERS OF METROLOGICAL DIRECTIONS
Zhdanova Nina Filaretovna ……. page 127
Shkrob Vitaly Mikhailovich ……. page 129