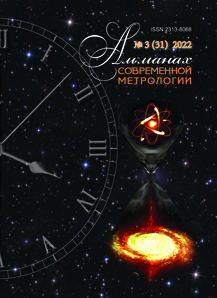 The current number of the Almanac of 2022, No. 3 (31), is dedicated to the scientific basis of metrology.
Having presented two improved state primary standards, the journal moves on to describing high-precision instruments in such important areas of measurement as gravitational, electrical, radio measurements, hydro­acoustic. Articles in the section "Metrology and metrological support" warn about the importance of the accuracy of measuring instruments.
A significant part of the content of the journal is the methodology of measurement. Two sections on this subject — "Measurement procedures" and "Methods for diagnostics of substances and materials" publish six articles.
Of undoubted interest should be the article from the section "Technology of automated monitoring".
The traditional heading "Founders of Metrological Trends" presents two anniversaries who have made a significant contribution to the development of their industry.
CONTENTS
I. STANDARDS OF PHYSICAL QUANTITIES. REFERENCE MEASUREMENTS
I.B. Norets, Yu.F. Smirnov, E.Y. Glazov, V.N. Fedotov
Results of improvement of the State Primary Standard of the Units of Time, Frequency and the National Time Scale GET 1 ……. page 8
A.E. Eskin
Improvement of the State Primary Special Standard of Magnetic Induction Unit in the Range of 1–10 T of GET 82-85 ……. page 22
S.I. Kuznetsov
Reference power meter for ultrasound beam in water EIMU-3 ……. page 31
II. GRAVITATIONAL MEASUREMENTS
V.F. Fateev
Quantum optical level on the effect of gravitational delay of a light wave and its capabilities ……. page 45

III. ELECTRICAL AND RADIO MEASUREMENTS
M.A. Zenchenko, V.V. Makarov, A.V. Kleopin, L.N. Selin
Investigation of characteristics of a microsecond meter of instant values of pulsed electric voltage ……. page 61
A.A. Pryadka
Investigation of the characteristics of microwave thermistors produced by FSUE "VNIIFTRI" ……. page 71
I.А. Nabatchikov
Minimizing the reflection coefficient of a microstrip power divider in the frequency range from 0 to 6 GHz ……. page 77
IV. HYDROACOUSTIC MEASUREMENTS
G.I. Losev
Development of a trajectory-space filtering algorithm for noise emission from moving objects ……. page 83
V. METROLOGY AND METROLOGICAL SUPPORT
F.I. Khrapov, A.A. Pankov
Analysis of regulatory documents regulating planning of work on metrological support of product development ……. page 94
M.M. Murzabekov, A.E. Eskin
Calibration results of the fluxgate magnetometer ……. page 106
VI. MEASUREMENT PROCEDURES
I.N. Vaulin
The noise figure and the gain range estimation for Y-factor method ……. page 119
K.V. Epifantsev, T.P. Mishura, P.A. Okolo-Kulak
Development of a methodology for research measurements of alternating voltage of various forms and the accompanying calibration of voltmeters ……. page 130
N.G. Oganyan
Harmonization of requirements for the production, application and control of reference materials ……. page 145
M.V. Ushakov, I.A. Vorobyov, S.M. Nikolsky
Algorithmization of the process of processing measuring information when monitoring gears on coordinate measuring machine ……. page 154

VII. METHODS FOR DIAGNOSTICS OF SUBSTANCES AND MATERIALS
A.V. Aprelev, V.A. Smirnov, E.V. Davydova
Rapid test for detecting adulterated food products of fat and oil industry ……. page 160
V.A. Smirnov, E.V. Davydova
Rapid test for analyzing high-tech products for compliance with required quality characteristics ……. page 169
VIII. AUTOMATED MONITORING TECHNOLOGY
E.A. Volkova, A.S. Ryabyshenkov, A.A. Bakhtin, A.E. Baskakov, S.A. Ten
Deployment of a digital cellular network of the McWiLL standard for AEMS ……. page 178
IX. THE FOUNDERS OF METROLOGICAL DIRECTIONS
Rusakov Ivan Gavrilovich ……. page 192
Cherenkov Georgy Tikhonovich ……. page 194