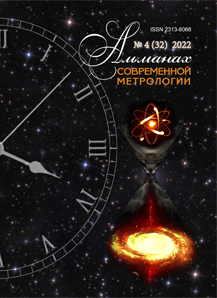 The current number of the Almanac of Modern Metrology — No. 4 (32) 2022 — includes articles covering the development and improvement of frequency standards, gravitational and hydroacoustic measurements.
The interest of specialists should be caused by articles on the direction of research in terms of time and frequency measurements and from the section "Navigation devices".
Articles devoted to the metrological support of concrete flaw detection, mathematical modeling in various branches of metrology and the analysis of the qualitative characteristics of materials, including the use of automated systems, are of great practical importance.
The traditional column "Founders of metrological measurements" is presented by three veterans who have made a great contribution to the development of important areas of metrology.
CONTENTS
I. DEVICES AND MEASUREMENT METHODS (TIME AND FREQUENCY MEASUREMENTS)
V.P. Sysoev, Yu.S. Samokhvalov, V.I. Vasiliev, V.P. Nagirny, N.I. Nesterov, D.A. Paryokhin, S.N. Ovchinnikov
Compact active hydrogen frequency standard ……. page 8
V.I. Pavlov, I.V. Balakireva, M.K. Brazhnikov, N.P. Khatyrev
Frequency stabilization of diode lasers using lithium tantalate microresonators for laser cooling systems of a rubidium fountain ……. page 18
II. NAVIGATION DEVICES
V.F. Fateev
Space quantum level and its capabilities in developing a global high-altitude basis ……. page 27
S.Y. Burtsev, D.S. Pecheritsa
Signal delay estimation of the measuring device ADC path ……. page 52
III. METHODS AND DEVICES FOR MONITORING AND DIAGNOSING MATERIALS, PRODUCTS, SUBSTANCES AND THE NATURAL ENVIRONMENT
V.A. Pivovarov
Metrological support of concrete defectoscopy ……. page 59
A.S. Stepashkina, E.A. Gushchina
Method for determining the strength and elasticity of polymer composite materials ……. page 68
A.S. Stepashkina, К.V. Epifantsev, V.O. Smirnova, O.V. Chuprinova, K.V. Zolotukhin
Remote quality control of welded joints of films by measuring defects by artificial intelligence system ……. page 75
IV. METROLOGY AND METROLOGICAL SUPPORT
M.A. Khanzadyan
Study of metrological characteristics of the State Primary Standard of Location Coordinates in part of measurements of astronomical azimuth ……. page 89
E.B. Iskenderzade, H.S. Veliev
Verification of the likelihood of the result of metrological assessment of the instrumental error of meters of a single series ……. page 104
V. ANTENNAS, MICROWAVE DEVICES AND THEIR TECHNOLOGIES
S.S. Donchenko, E.A. Lavrov, D.A. Sokolov
Results of the development of the inter-satellite interferometer setup for "The SOIGA" space gravitational-wave antenna ……. page 110
D.A. Philippov, A.S. Zavgorodniy
Development of a simplified mathematical model of a dual-rerlector antenna radiation pattern ……. page 121
A.A. Bakulin, A.S. Zavgorodniy
Characteristics analysis of the high-frequency channel with parallel connection of units ……. page 128
A.S. Zavgorodniy, V.Y. Kaspin
Investigation of the influence of the quality of load matching on the group delay time in the line ……. page 134
VI. ACOUSTIC MEASUREMENTS
A.E. Isaev, A.M. Polikarpov, B.I. Khatamtaev
Approaches to the amplitude-phase calibration of a hydrophone by the reciprocity method ……. page 140
A.E. Isaev, Yi Ghen, A.N. Matveev, Guanghui Jia, B.I. Khatamtaev, Shiquan Wang, N.G. Shcherblyuk
COOMET 786/RU-a/19: results of pilot comparisons of hydrophones amplitude-phase free-field calibrations in the frequency range from 10 to 500 kHz ……. page 151
VII. THE FOUNDERS OF METROLOGICAL DIRECTIONS
Trokhan Alexander Markovich ……. page 169
Zhestkova Nadezhda Dmitrievna ……. page 171
Zhestkov Anatoly Grigorievich ……. page 172