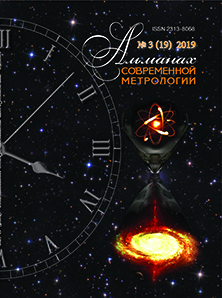 The regular issue of the "Almanac of Modern Metrology" (No. 3 (19) 2019) — the third issue of this year is mainly devoted to the development of the statutory and regulatory, scientific and methodological bases, their main elements. The directions of improvement and development of reference standards to ensure the uniformity of measurements, development of new modern measurement methods, projects of changing the standards used are highlighted.
Attention is also paid to the testing of reference materials for the purpose of type approval as one of the forms of state regulation of ensuring the uniformity of measurements.
The role of comparisons in the improvement of state standards is emphasized, conclusions are made on the basis of the results of international comparisons.
Special sections of the journal are dedicated sections to the founders of metrological directions.

CONTENTS
PREFACE OF THE CHIEF EDITOR
S.I. Donchenko
Statutory and regulatory, methodological bases of the system of ensuring the uniformity of measurements page 8
I. IMPROVING THE SYSTEM FOR ENSURING THE UNIFORMITY OF MEASUREMENTS
A.A. Pankov
Main directions of development improvement of reference standards to ensure the uniformity of measurements page 11
N.G. Oganyan
Reference materials of physical and chemical measurements in Russia page 17
II. PROSPECTS FOR THE DEVELOPMENT OF MAIN FORMS OF STATE REGULATION OF ENSURING THE UNIFORMITY OF MEASUREMENTS
O.V. Denisenko, I.S. Silvestrov, A.V. Mazurkevich, D.A. Golub, D.S. Pecheritsa, A.A. Frolov
Changes in the updated state verification schedule for coordinate-temporal measurement instruments page 25
V.A. Semenov, A.S. Bondarenko, I.M. Malay
About standardization of connection sizes of connection elements of assembly of microwave devices of electronic measuring instruments page 31
A.S. Leskov, M.B. Kuvykina, N.P. Trotsenko
Verification of electron paramagnetic resonance spectrometers of 3 cm range page 45
A.V. Berliand, V.A. Berliand
Methodological support of dosimetry for purposes of radiation therapy page 54
III. MEASUREMENT METHODS
V.S. Belyaev, V.B. Bychkov, Yu.A. Suddenok, A.V. Tyablikov, V.N. Shorin
Acoustic emission method. Transducers for registration of Lamb waves excited by corrosion processes page 58
A.V. Aprelev, E.V. Davydova, V.A. Smirnov, A.A. Pryadka, E.A. Lavrov
Application of the method of spectral analysis in determining the availability of synthetic dyes in biotechnological media page 67
M.A. Maksimkin
Research of processing methods of surfaces manufactured by 3D film printing page 72
K.V. Epifantsev, S.A. Naumov
Research of metrological characteristics of platinum thermal transducers for analysis of dependence of its resistance from temperature parameters page 76
IV. INTERNATIONAL COOPERATION. STANDARD COMPARISONS
A.E. Aslanyan
International cooperation of FSUE "VNIIFTRI" in the field of hardness measurements page 84
A.E. Isaev, A.M. Polikarpov
About the role of comparisons in GET 55 improvement page 91
A.E. Isaev, A.N. Matveev, G.S. Nekrich
About the calibration of vector quantity receivers of hydro-acoustic field in the conditions of reflective water tank. Results, conclusions based on international standards page 112
V. FOUNDERS OF METROLOGICAL DIRECTIONS
Petr Georgievich Strelkov page 141
Aleksandr Mikhailovich Zhukov page 142
Mikhail Konstantinovich Zhokhovskii page 143