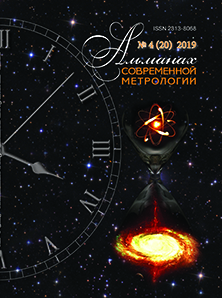 The fourth this year — the twentieth from the beginning of the release — issue of the «Almanac of Modern Metrology» No. 4 (20) 2019 is devoted to important issues of metrology — electrical, time-frequency, and hydroacoustic measurements.
The issue begins with a preface of the chief editor who raises the crucial question of modern metrology — about the prospects for the development of the most important metrological directions.
Another work is also devoted to this topic — on the prospects of physical and technical measurements at the present stage.
A separate section presents issues of practical metrology related to technological support of research, including repair works on measuring instruments.
The traditional section of the issue is devoted to the founders of metrological directions.
CONTENTS
PREFACE OF THE CHIEF EDITOR
S.I. Donchenko
About prospects for the development of research directions of metrological institutions ……. page 8
I. METROLOGY AND METROLOGICAL SUPPORT
E.G. Aslanyian, M.V. Balakhanov, V.I. Dobrovolskii, O.I. Kovalenko, V.N. Nekrasov
Physical and technical measurements in VNIIFTRI. Development prospects ……. page 11

II. MEASUREMENT OF ELECTRICAL QUANTITIES. REFERENCE INSTRUMENTS
S.V. Sherstobitov
Improvement of quantum standards in the field of electrical and radio engineering measurements ……. page 31

III. TIME-FREQUENCY MEASUREMENTS OF PROCESSES AND SYSTEMS
V.B. Polyakov, N.V. Aksyonow, M.V. Sergeev
The means of providing time synchronization of data and processes in the internet of things at the level of devices and their classification ……. page 40

IV. HYDROACOUSTIC DEVICES AND SYSTEMS
A.E. Isaev, A.S. Nikolaenko, A.M. Polikarpov
Experimental research of the mass-dimensional model of the recorder ……. page 54
G.S. Nekrich, A.I. Shchelkunov
Use of mathematical modeling in determining hydroacoustic properties of small samples of materials in the range of low frequencies ……. page 123

V. MEASUREMENT METHODS OF IONIZING RADIATION
M.V. Prokuronov, V.D. Sevastianov, R.M. Shibaev, A.V. Ianushevich
Research of methods for designing high-sensitive introscopes with a coded aperture for image registration of gamma radiation sources and mixed neutron and gamma radiation ……. page 134

VI. CONTROL METHODS ON DIGITAL BASIS
E.A. Sevryukova, E.A. Volkova, A.E. Baskakov
Development of algorithmic ensurance of the hardware and software suite of environmental monitoring ……. page 190

VII. PRACTICAL METROLOGY ISSUES
K.S. Tkachenko
Analytical model of the degrading and self-healing measuring device on the basis of a computer node in the drift characteristics of the input stream ……. 200
M.A. Maksimkin
Development of the connection process of crystal samples in acoustoptic cells ……. page 206

VIII. MEMORIAL PAGES
V.M. Borovkov
We develop standards — standards develop us ……. page 212
IX. THE FOUNDERS OF METROLOGICAL DIRECTIONS
Boris Andrianovich Gaigerov ……. page 217
Robert Dmitrievich Vasilev ……. page 218
Boris Ivanovich Zaslavski ……. page 219