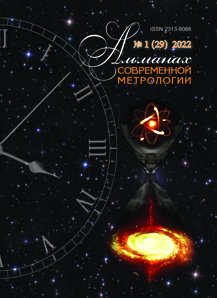 The first issue of this year's "Almanac" No. 1 (29) begins with a foreword by the editor-in-chief.
Of undoubted interest should be a fundamental review of the team of authors on the state of development of mobile time and frequency standards for solving the problem of quantum leveling.
Important questions are raised in the articles of the traditional sections of the Almanac, such as "Coordinate-temporal measurements", "Gravitational measurements", "Hydroacoustic measure­ments", "Acousto-optic measuring instruments".
The issue informs the reader about new books on metrology published by the FSUE "VNIIFTRI" publishing house.
Traditionally, there is a heading "The founders of metrological directions".
CONTENTS
PREFACE OF THE CHIEF EDITOR
S.I. Donchenko
Search and achievements — the content of the first publications of the "Almanac of modern metrology" of the coming year ……. page 8
I. TIME AND FREQUENCY MEASUREMENTS
S.L. Pasynok, I.V. Bezmenov, I.Yu. Ignatenko, V.S. Ivanov, E.N. Tsyba, V.E. Zharov
Nowdays works of MMC SSTF for EOP evaluation ……. page 11
F.F. Karpeshin, M.B. Trzhaskovskaya, L.F. Vitushkin
On the problems of creating a nuclear-optical frequency standard based on 229Th ……. page 30
V.F. Fateev, V.P. Lopatin, V.G. Palchikov, V.P. Sysoev
Review of the state of development of mobile time and frequency standards for solving the problem of quantum leveling ……. page 43
A.N. Zhukov, S.M. Zotov, N.S. Churilov
The technology for ultra-rapid monitoring of the accuracy characteristics of time and frequency sources integrated in pseudorange measuring systems using GLONASS open access signals only ……. page 63
II. COORDINATE-TEMPORAL MEASUREMENTS
O.V.  Kolmogorov
Analysis of phase effects arising during the transmission of optical signals of a quantum level due to changes in external influences on the fiber-optic communication line ……. page 71
S.S. Donchenko, R.A. Davlatov, E.A. Lavrov, D.A. Sokolov, I.O. Skakun
Principles of construction of inter-satellite laser interferometers in the existing projects of gravitational-wave antennas and space gravitational gradiometers ……. page 82
III. GRAVITATIONAL MEASUREMENTS
V.F. Fateev, I.Yu. Ignatenko
On the possibility of measuring the parameters of the Earth's gravitational field using quantum-optical systems ……. page 106
V.F. Fateev, Y.F. Smirnov, S.S. Donchenko, F.R. Smirnov, E.A. Rybakov
Experimental measurement of the doubled gravitational frequency shift in a quantum level on hydrogen clocks ……. page 115
VI. HYDROACOUSTIC MEASUREMENTS
A.E. Isaev
On the issue of measuring the sound reflection coefficient using a virtual few-element phased radiating array ……. page 127
V. ACOUSTO-OPTIC MEASURING INSTRUMENTS
N.A. Askerov
Metrological support of acousto-optical measurement instruments ……. page 136
N.A. Askerov, A.V. Aprelev
Practical results of the application of acousto-optical measuring instruments ……. page 148

VI. NEW BOOKS ON METROLOGY ……. page 157

VII. THE FOUNDERS OF METROLOGICAL DIRECTIONS
Valitov Rafkat Amirkhanovich ……. page 159