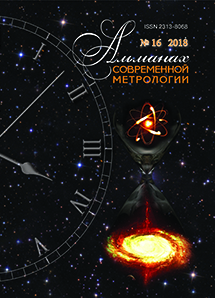 The sixteenth issue of the "Almanac of Modern Metrology" (fourth edition of 2018) raises a pressing issue of the day — ensuring the uniformity of measurements in the process of digital transformation of the economy. Coverage of the question is confirmed by the articles placed in the section of the almanac dedicated to the modernization of the reference base.
Section "Fundamental research" starts with an article about measurement of the spectral distribution of optical radiation by acousto-optical spectrometers.
The article from the section "Physical Basis of Metrology" is of undoubted interest which refers to the developed in VNIIFTRI precision method for measuring the electrophysical and thermochemical characteristics of polycrystalline materials, which allowed to establish the dependence of the atomization energy of diamond on its size.
Within the framework of fundamental and applied metrological studies, analysis of methods for developing highly sensitive devices, in particular, for registration of images of ionizing radiation sources is given.
Traditionally there is a heading "Founders of metrological directions".
CONTENTS
PREFACE OF THE CHIEF EDITOR
S.I. Donchenko
Ensuring the uniformity of measurements in the process of digital transformation of the economy page 7
I. GENERAL ISSUES
M.V. Kuliev
Problem issues of import substitution in domestic electronics page 10
II. BASIC RESEARCH
V.I. Pustovoit
About measurement of the spectral distribution of optical radiation by acousto-optical spectrometers page 15
M.V. Prokuronov, V.D. Sevastyanov, R.M. Shibaev
Evaluation of methods for constructing highly sensitive introscopes with coded aperture for registration of image of gamma radiation and mixed ionizing radiation sources page 33
III. STANDARDS
S.T. Parinov
The main directions of development of the means of ensuring the uniformity of measurements of the electric field intensity in the frequency range from 0 to 20 kHz page 54
A.V. Mylnikov
Digital synthesis and analysis of AM and FM signals page 70
E.G. Aslanyan, A.E. Aslanyan, A.N. Shchipunov
Improvement of The state primary standard of hardness on Rockwell and Super-Rockwell scales page 80
A.V. Aprelev, V.S. Belyaev, V.N. Shorin
Problems of ensuring the unity of measurements of the information transmission speed during implementation of the program "Digital Economy of the Russian Federation" page 90
IV. PHYSICAL BASIS OF METROLOGY
S.S. Batsanov
Detonation diamond, properties and the structure of its aqueous solutions page 96
V. APPLIED METROLOGICAL RESEARCH
M.A. Maksimkin
Development of mounting of acoustic emission sensors on the inner surface of the sealed housing of the Russian segment of the International Space Station page 101
S.A. Kolotygin
Calibration of measuring antennas at close distances page 107
VI. PRACTICAL METROLOGY
A.V. Aprelev, E.V. Davydova, V.A. Smirnov
Antioxidants as a food safety criterion page 120
A.A. Pryadka, E.A. Lavrov
Development of methods for identifying sugar by its origin page 129
VII. PAGES OF METROLOGICAL CHRONICLE
A.L. Kapitonov
Major events in the field of time and frequency measurements       page 135
VIII. FOUNDERS OF METROLOGICAL DIRECTIONS
Sergey Alekseevich Hristianovich page 172
Valentin Nikolaevich Razumikhin page 173
S.M. Gavrilkin
The formation of metrology of shock wave chemistry in VNIIFTRI under the guidance of S.S. Batsanov page 175
Grigory Kalistratovich Yagola page 185