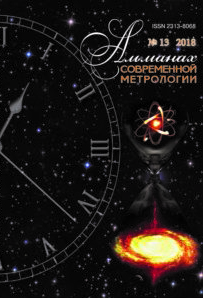 The first issue of Almanac in 2018 is the thirteenth number of this publication.
Almanac devotes its pages to the research of measuring equipment, introduces methods for the development of measuring instruments, summarizes the experience of the creation and serial production of measuring instruments.
Two works focus on issues of practical metrology. The article is close to this section that deals with the metrological aspects of food security.
CONTENTS
FOREWORD OF HEAD EDITOR
S.I. Donchenko
The coming year is the time of technical breakthroughs page 7
I. ACTIVITIES OF THE SSTF
I.Yu. Blinov, S.L. Pasynok, I.V. Bezmenov, I.Yu. Ignatenko, E.N. Tsyba, N.A. Vostruhov, N.P. Redkina, A.N. Sinev, E.V. Sysak, M.A. Chinilina, V.R. Sсhlegel, A.G. Zhestkov
EOP activity of MMC SSTF in 2017 MMC SSTF FSUE page 9
II. RESEARCH OF MEASURING EQUIPMENT
Y.A. Burenkov, O.V. Kaminskiy, I.M. Malay, M.V. Sargsyan
Research of a cryogenic noise source with an output waveguide WR-5 page 62
A.A. Oreshko, I.V. Kuznetsov
Metrological support during producing kits for coaxial connectors measurements pages 71
A.A. Priadka
Development and manufacture of thermistor with frequency 0.02–50 GHz page 76
III. EXPERIENCE IN THE DEVELOPMENT AND SERIAL PRODUCTION
A.M. Enyakov
Measuring hydrophones of foreign firms page 93
IV. PROBLEMS OF PRACTICAL METROLOGY
O.I. Kovalenko, I.V. Kuvykin
FSUE "VNIIFTRI" capabilities for manufacturing and calibration of special activity measures of radionuclides with different geometry and matrix material for spectrometric and radiometric and aerosol instruments graduation page 128
V. METROLOGY OF FOOD SAFETY
A.V. Aprelev, E.V. Davidova, V.I. Dobrovolskiy, V.A. Smirnov
Methods and techniques for measurement of physic-chemical parameters and safety of water and foodstaffs ensuring food security of the country page 137
VI. LEGAL AND REGULATORY FRAMEWORKS FOR CERTIFIED REFERENCE MATERIAL
A.S. Doynikov, A.P. Zhanzhora, O.I. Kovalenko, V.P. Tenishev, F.I. Hrapov, L.V. Yurov
Analysis of the existing regulatory framework to ensure the uniformity of measurement for reference materials and development of proposals for its harmonization with international law page 145
VII. TECHNICAL REGULATIONS ON EQUIPMENT SAFETY
G.E. Epikhina, A.A. Lyubochkin, A.A. Gorbatyuk, E.V. Lazareva
Technical regulations and equipment safety issues of explosion protection of fire detectors and alarms in production and operation       page 189
THE FOUNDERS OF THE METROLOGICAL AREAS
Vladimir Ivanovich Ermakov page 196
Isaev Boris Mikhailovich page 197