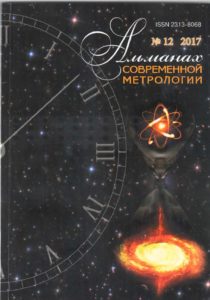 12th issue of "Almanac of the Modern Metrology" (this year) is devoted to mainly temperature changes.
It's becoming a tradition that most important events of metrological institute activity (following the Arabian definition of Al'manach as event calendar) define themes of the future issues of the journal.
This year faced such an event — a centennial from the date of birth of one of the founders of low temperature measurement direction of VNIIFTRI, outstanding metrologist Margarita Petrovna Orlova, whose anniversary date has been celebrated by whole metrological society. Meaning not only achievements and scientific breakthroughs of doctor of technical science M.P. Orlova, but also activity of her successors and followers of development and modernization of reference class instrumentation, international cooperation within undertaken by MBMV works aimed at accepting a new version of temperature scale.
CONTENTS
FOREWORD OF HEAD EDITOR
S.I. Donchenko
About raising the level of measurement technique and development of modern metrological infrastructure page 7
DOWN/THROUGH THE PAGES OF HISTORY
G.A. Kytin, E.Ya. Razhba
Нistory of creation and development of direction of temperature and thermophysical measurements in FGUP "VNIIFTRI" page 10
METROLOGICAL MEASUREMENTS. SEARCH, DECISIONS
S.M. Osadchy, B.G. Potapov, K.D. Pilipenko
Acoustic gas thermometer for implementation of the new definition of Kelvin on the basis of fundamental physical constant of Boltzmann page 15
G.A. Kytin, V.G. Kytin, M.YU. Gavalyan, E.G. Aslanyan, A.N. Shchipunov
Installation for measurement of thermodynamic temperature by method of relative acoustic gas thermometry in the range of (4,2–273,16) K page 43
S.M. Osadchy, B.G. Potapov
Unit density national standard of radiative heat flux in the range from 5 to 2500 kW/m² page 65
M.A. Vinge, A.F. Vinge, S.A. Morozov, N.P. Skryabikov
Informational measuring system of transferring the gas humidity unit dimensions in remote access mode page 74
A.A. Anashko, A.F. Vinge, M.A. Vinge, S.A. Morozov
Content, application and development prospects of national primary standard of relative gas humidity units, moisture molar (volume) fraction, dewpoint/frost temperature 151-2014 page 81
PROMOTION OF SYSTEM SI NEW MODIFICATION
M.V. Balakhanov
Informational work for promotion of system SI new modification       page 92
FOUNDERS OF METROLOGICAL DIRECTIONS
Margarita Petrovna Orlova page 96