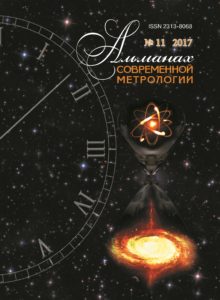 The 11th issue of the "Almanac of Modern Metrology" is devoted to the fiftieth anniversary of the approval of the standard of time and frequency and its registration in the State Register of Standards under №1. This is an epoch-making event that opened the era of the calculus of atomic time in the country.
"Almanac" keeps a close watch on all the main stages of the standard "work", its research, content, modernization, that allow raising accuracy of frequency and time units, transmission of precise time to the consumers.
Once again, standard of our country joined the ranks of the world's best standards.
Special attention is given to the latest decade of MSFT development, its achievements in the new century.
CONTENTS
FOREWORD OF THE CHIEF EDITOR
S.I. Donchenko
The measuring standard as tool of the highest accuracy page 9
I. HISTORICAL PART
V.P. Kostromin
Brief historical review of creating and development of the Russian state primary frequency and time standard are presented by the scientific keeper of the primary standard page 11
Yu.S. Domnin, V.P. Kostromin, V.M. Tatarenkov, N.B. Koshelyaevsky
Investigation and development of atomic time in VNIIFTRI page 16
II. THE STANDARD OF THE NEW CENTURY
I.Yu. Blinov, S.I. Donchenko, N.B. Koshelyaevsky, A.N. Schipunov
SPTFS — ten years developments page 43
O.I. Berdasov, A.Y. Gribov, S.A. Strelkin, S.N. Slyusarev
The optical frequency standard based on strontium cold atoms page 81
D.S. Kupalov, V.N. Baryshev, I.Yu. Blinov, A.I. Boiko, Yu.S. Domnin, L.N. Kopilov, O.V. Kupalova, A.V. Novoselov, M.N. Khromov
Preliminary results on Rb fountain frequency standard developed at VNIIFTRI page 95
III. FUNDAMENTAL INVESTIGATIONS
I.V. Bezmenov, S.L. Pasynok
Evaluation rapid GNSS orbits and clocks based on GNSS measurements page 104
A.I. Magunov, V.G. Palchicov, V.N. Baryshev
Theoretical estimates of the shape of the CPN-resonance in a miniature atomic clock page 121
O.V. Kolmogorov, A.N. Shchipunov, D.V. Prokhorov, S.S. Donchenko, S.G. Buev, A.N. Malimon, R.I. Balaev, D.M. Fedorova
Complex of equipment for comparing of time scales of standards and for stable radiofrequency transfer over optical fiber page 150
V.L. Voronov, A.S. Zavgorodniy, I.V. Ryabov
About the determination of the guidance corrections of the metrological complex for estimating the energy characteristics of radio navigation signals antenna system page 171
IV. PARTICIPATION IN INTERNATIONAL METROLOGICAL ACTIVITIES
N.B. Koshelyaevsky, A.V. Naumov
Directions and outlooks to the development of time and frequency measurements based on the 21st session of the Consultative Committee of Weights and Measures (CIPM) page 184
V. THE NEW REFERENCE COMPLEX TIME AND FREQUENCY
A.S. Goncharov, Yu.F. Smirnov, I.B. Norets
The new reference complex time and frequency       page 221
VI. FOUNDERS OF METROLOGY FIELDS
Paliy Gleb Nikolaevich page 230