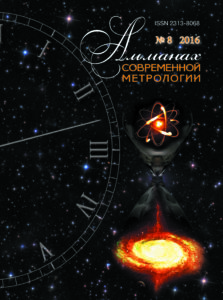 The preparation of the next, eighth issue of the Al'manac of Modern Metrology coincided with an important event — the first class of the scientific and educational center of FSUE "VNIIFTRI". The Main Metrological Center of the State Service for Time and Frequency (GMTs GSVCh VNIIFTRI) organized this class within the framework of the advanced training of metrology staff. This is emphasized in the Preface to the issue. The first lesson was devoted to the measurement of time, frequency and determination of the Earth's rotation parameters — the main and the most relevant research area, which is widely demanded for many sectors of the economy, including transport, aviation, space complexes, science, etc.
The most qualified specialists of the GMTs GSVCh of VNIIFTRI delivered their lectures. Read lectures became a basis of scientific articles, prepared for the present issue of the Al'manac of Modern Metrology.
Articles cover questions of the activity of the State service for time and frequency of Russia and its Principal metrological center in VNIIFTRI, the Standards base of the GSVCh; determination and reproduction of a second, transmission of standard signals over fiber optic communication lines and other means, including television, the Internet.
Results of basic scientific researches on creation of new modern standards of frequency and others are published in this issue.
CONTENTS
FOREWORD FROM THE EDITOR-IN-CHIEF
S.I. Donchenko
Employment issue for the system of the uniformity of measurements page 7
FUNDAMENTAL QUESTIONS OF METROLOGY
A.S. Doynikov
Current state of the conceptual and terminological system of metrological science page 9
STATE TIME AND FREQUENCY SERVICE OF RUSSIA
V.G. Palchikov
Activity of the State service for time, frequency and determination of the Earth's rotation in the Russian Federation and outside page 26
DEVELOPMENT OF THE STANDARDS BASE
I.B. Norets
The standards base of the GSVCh. The current state and development prospects page 53
PRECISE TIME AND INTERNET
S.N. Kagan, S.V. Pesterev
Results of experimental researches of the real uncertainty of time scales for customers of NTP servers of the Stratum level page 75
S.N. Kagan
The accurate time in the wide-area network Internet page 87
ATOMIC FREQUENCY STANDARD
Yu.S. Domnin
Definition and reproduction of a second page 105
V.N. Baryshev, D.S. Kupalov, A.V. Novoselov, M.S. Aleynikov, A.I. Boyko, V.G. Palchikov, I.Yu. Blinov
A small-dimensioned quantum frequency standard on a rubidium gas cell with a pulsed optical pumping and a microwave excitation under the diagram RAMSI page 122
S.N. Slyusarev
Optical frequency and time standard page 130
TRANSFER OF STANDARD SIGNALS
I.Yu. Ignatenko
Comparison of distant scales based on the methods of laser distant measurements page 148
A.V. Naumov
Method of two-way transmission time and frequency signals via geostationary satellites (TWSTFT) page 162
A.N. Malimon
Transfer of standard signals of time and frequency over an fiber-optic lines page 198
DETERMINING THE PARAMETERS OF THE EARTH'S ROTATION
S.L. Pasynok
Methods and means of the determination of the Earth's rotation page 269
FUNCTIONING OF STANDARD COMPLEXES
V.I. Nestuley, M.A. Dovgaluk, A.N. Popov, S.V. Volodina
Technical means for assuring the functioning of time and frequency standards complexes       page 324
FOUNDERS OF SCIENTIFIC FIELDS
Georgiy Alekseevich Yolkin page 333