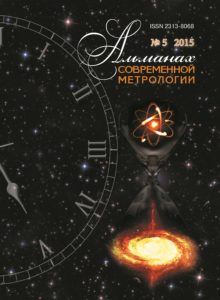 The fifth issue, which comes out at the end of 2015, sums up a year of metrological activity in a variety of fields, in particular time-frequency, radio, and acoustic measurements, and discusses prospects for development of these areas and their standards bases.
The journal publishes new results of metrological investigations in the field of pulse pressures, ionising radiations, thermodynamic temperature.
The need for adjusting the normative base in the area of ensuring the uniformity of measurements according to the legislation of the Russian Federation is discussed.
Of interest are the articles which consider from a historical angle the emergence and development of such VNIIFTRI research areas as measurement of the parameters of an electrostatic field, physicochemistry, and shock wave metrology.
CONTENTS
FOREWORD FROM THE EDITOR-IN-CHIEF
Donchenko S.I.
On the legislative basis for the normative base in metrology page 7
METROLOGICAL STUDIES. SEARCH AND NEW SOLUTIONS
Vorontsov S.V., Koshelev A.S., Khoruzhi V.Kh., Drozdov I.Yu., Kovalenko O.I., Generalova V.V., Sevast'yanov V.D., Zhanzhora A.P.
A multicomponent reference field of radiation effect at a research reactor with a test system function page 11
Gavrilkin S.M., Temnitskiy I.N., Yur'yev B.V., Shchipunov A.N., Avdeenko O.V.
An investigation of capabilities of shock tubes for the calibration of pulse pressure measuring instruments page 21
Kytin V.G., Kytin G.A., Shchipunov A.N.
Measurement and analysis of an acoustic resonance in a spherical resonator filled with gaseous helium for determining thermodynamic temperature page 33
DEVELOPMENT OF THE STANDARDS BASE
Norets I.B., Smirnov Yu.F., Ivanova Yu.D.
National primary standard of the units of time, frequency, and the national time scale GET 1-2012. History, current state and prospects for development page 42
Aleykin V.V., Generalova V.V., Gromov A.A., Gurskiy M.N., Zhanzhora A.P., Emel'yanenko I.A., Kovalenko O.I., Tenishev V.P.
National primary special standard for the unit of absorbed dose rate of intense photon, electron, and beta radiation for radiation technologies GET209-2014 page 54
Malay I.M., Kaminskiy O.V., Tishchenko V.A., Shekhovtsov V.N.
Status and prospects for development of the uniformity of measurements of radio quantities page 75
EMERGENCE AND DEVELOPMENT OF METROLOGY FIELDS
Tishchenko V.A.
Development of the metrology of measurements of the parameters of an electrostatic field at VNIIFTRI page 84
Batsanov S.S.
Development of shock wave physics, metrology, and chemistry at VNIIFTRI page 93
NORMATIVE ASPECTS OF METROLOGY
Enyakov A.M., Panin O.A., Sil'vestrov S.V.
Problems and prospects of standardization of underwater noise radiated by commercial vessels page 117
INTERNATIONAL COOPERATION
Aslanyan A.E., Aslanyan E.G., Gavrilkin S.M., Shchipunov A.N., Yur'yev B.V.
Bilateral comparisons on the Martens hardness scales and indentation scales between VNIIFTRI and PTB page 157
ARCHIVE PAGES
Agaletskiy P.N.
Experience in developing and using standards for units of physical quantities page 162
FOUNDERS OF METROLOGY FIELDS
Dmitriy Zakharovich Lopashev page 170
Vladimir Konstantinovich Korobov page 171
Full texts of articles are available only in Russian in printed issues of the magazine.