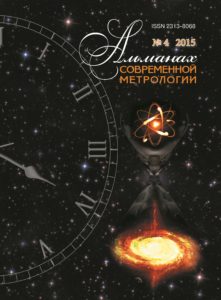 The fourth issue of the Al'manac presents the latest results from metrological studies in such areas as underwater acoustic and time and frequency measurements. A special focus is given to methods and devices for metrological support for GLONASS. Undoubtedly of interest is search and new solutions to metrological problems, particularly those of instrument calibration. Considerable space is devoted to national calibration and measurement capabilities in the domain of time and frequency measurements. One section, which is becoming a regular feature of the Al'manac, is dedicated to new priorities in metrology, in particular those related to the use of ultrasound in medicine and human environment monitoring.
The Al'manac introduces a new book on metrolgy, in the field of metrological support for neutron measurements at Russian nuclear-physics facilities.
CONTENTS
FOREWORD FROM THE EDITOR-IN-CHIEF
Donchenko S.I.
The standards base is the foundation of the system for ensuring the uniformity of measurements pages 7
FUNDAMENTAL AND THEORETICAL RESEARCH IN METROLOGY
Magunov A.I., Palchikov V.G.
Selective laser pumping in cesium and rubidium atomic frequency standards page 14
Kistovich A.V.
A model of stable stratification of a liquid taking into account the dependence of the thermodynamic parameters on temperature and salinity page 22
METROLOGICAL STUDIES AND GLONASS
Pasynok S.L.
Combined processing of different types of measurements for purposes of determining ERPs page 39
Epikhin V.M., Lavrov E.A., Mazur M.M., Suddenok Yu.A., Shorin V.N.
A transportable laser interferometer page 54
METROLOGICAL STUDIES. SEARCH AND NEW SOLUTIONS
Isaev A.E., Nikolaenko A.S., Polikarpov A.M., Chernikov I.V.
Calibration of an underwater sound receiver using water tank transfer function page 67
MEASUREMENT, VERIFICATION AND CALIBRATION METHODS
Matveev A.N.
Specific features of implementation of the CMWA method in a software-hardware system for free-field calibration of hydrophones in the standard GET 55-2011 page 112
MEASURING DEVICES AND EQUIPMENT
Zyuzin V.N., Smirnov B.N.
A unified series of scalar-vector measurement underwater acoustic transducers page 128
MEDICAL PRIORITIES IN UNDERWATER METROLOGY IN ACOUSTIC
Enyakov A.M.
Metrological problems of the use of ultrasound in physiotherapy page 152
MEASUREMENT OF THE PARAMETERS OF THE HUMAN ENVIRONMENT
Balakhanov M.V.
On the creation of a metrological assurance system for the measurement of dispersion parameters of aerosols and suspensions (II) page 194
NORMATIVE ASPECTS OF METROLOGY
Kapitonov A.L.
Russia's calibration and measurement capabilities in the field of time and frequency measurements page 228
FOUNDERS OF METROLOGY FIELDS
Sergey Borisovich Pushkin page 259
NEW BOOKS ON METROLOGY       page 262
Full texts of articles are available only in Russian in printed issues of the magazine.