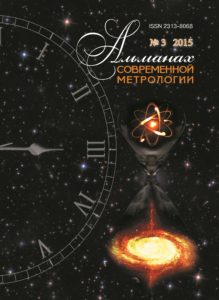 The third issue of Al'manac of Modem Metrology is a thematic one and it is dedicated to gravimetric and gradiometric measurements, development of the metrology base in this field, and solving its technical, organizational and legal issues. The contributions are based on papers presented in the scientific seminar "Contemporary state and prospects of space gravimetry and gradiometry" organized by VNIIFTRI and attended by specialists of institutes of the Russian Academy of Sciences, the Lomonosov Moscow State University, and industrial organizations active in the field of space geodesy and gravimetry.
The issues and suggestions raised in the articles will no doubt play a positive part in solving contemporary problems of geodesy, space gravimetry and gradiometry — a most important area of fundamental science.
CONTENTS
FOREWORD FROM THE EDITOR-IN-CHIEF
Donchenko S.I.
Space gravimetry and gradiometry is a most important area of fundamental science page 6
SPACE SYSTEM FOR GLOBAL GEODETIC MONITORING
Kosenko V.E.
Comprehensive studies into the justification of routes to the creation and principles of the construction, as well as determination of the design of a space system for global geodetic monitoring page 9
Denisenko O.V.
Routes to achieving the accuracy characteristics of the national geocentric coordinate system page 21
MEANS FOR MONITORING THE PARAMETERS OF THE EARTH'S GRAVITATIONAL FIELD
Fateev V.F.
Spaceborne gravitational field parameter meters page 32
Baryshev V.N., Blinov I.Yu.
Gravimetry with atomic interferometers page 62
Soroka A.I., Fateev V.F., Popadiev V.V.
Prospects for development of space gravity gradiometry based on torsion mechanical oscillating systems page 69
Dubovskiy V.B., Belyaev M.Yu., Leontiev V.I., Manukin A.B., Obydennikov S.S., Pshenyanik V.G.
Present state and prospects of satellite accelerometry and gradiometry page 84
Manukin A.B., Kalinnikov I.I., Matyunin V.P., Dubovskiy V.B., Leontiev V. I.
High sensitivity accelerometers for measurements on spacescraft and planets of the Solar System page 97
METHODS FOR PROCESSING GRAVIMETRIC MEASUREMENTS
Pasynkov V.V., Zhukov A.N., Zotov S.M., Lobanov A.V., Tupitsyn I.N., Churilov N.S.
Present state and issues of onboard measurements processing in the interest of solving problems of space geodesy page 110
Klyuikov A.A.
Determination of the parameters of an Earth gravitational field model from measurements in the high-low mode of SST page 117
Neyman Yu. M., Sugaipova L.S.
On the harmonic analysis of the geopotential based on GOCE mission results page 126
Pleshakov D.I.
Determination of the height of a GEOIK-2 satellite above the sea surface page 132
Zotov L.V., Frolova N.L., Telegina A.A.
Measurements of the gravitational field in large Russian river basins from GRACE data page 142
FOUNDERS OF METROLOGY FIELDS       page 159
Full texts of articles are available only in Russian in printed issues of the magazine.