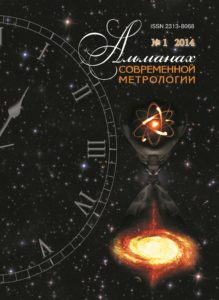 The first issue of the Al'manac contains articles on fundamental and applied research in metrology, particularly in the field of optical frequency standards, the methodology of physical measurements. It provides results from metrological studies in time and frequency, underwater acoustical and dielectric measurements and acquaints the reader with pursuit and new solutions in these areas. Much focus is given to topical issues such as measurement of the parameters of the human environment. Modern problems related to verification activity and practical metrology, primarily the creation of a standard base for metrological assurance of the food industry, are discussed.
The Al'manac introduces readers to new books on metrology.
CONTENTS
TO READERS page 7
FOREWORD FROM THE EDITOR-IN-CHIEF
S.I. Donchenko
Measurement accuracy is an engine of progress page 9
FUNDAMENTAL RESEARCH IN METROLOGY
O.I. Berdasov, K.Yu. Khabarova, S.A. Strelkin, G.S. Belotelov, A.S. Kostin, A.Yu. Gribov, V.G. Palchikov, N.N. Kolachevsky, S.N. Slyusarev
Optical frequency standards based on cold strontium atoms page 13
S.S. Batsanov
Modern problems of metrology. Correcting the methodology of physical measurements page 37
FREQUENCY AND TIME MEASUREMENTS AND GLONASS
S.I. Donchenko, A.N. Shchipunov, O.V. Denisenko, I.S. Silvestrov, V.N. Fedotov, A.S. Goncharov
Metrology in the GLONASS system: current state and prospects for development page 48
A.L. Kapitonov, I.Yu. Blinov, Yu.F. Smirnov
Russia's realisation of the time scale for coordinated time UTC(SU) and its transfer to the ground-based control complex of GLONASS page 65
S.L. Pasynok
Certain metrological aspects of the activity of determining the parameters of the Earth's rotation at the Main Metrological Centre of GSVCh page 75
S.N. Kagan
On the possibility of time scale formation reference nodes for the public telecommunications network using the standard base of GSVCh page 86
METROLOGICAL STUDIES. PURSUIT AND NEW SOLUTIONS
V.I. Teverovsky, S.G. Tsygankov
New approaches and modern methods in the measurement of underwater marine objects page 102
A.E. Isaev, A.M. Polikarpov
The problems of validation in underwater sound receiver calibration page 119
S.B. Bychkov
Investigations in the field of radiation acoustics page 161
MEASUREMENT OF THE PARAMETERS OF THE HUMAN ENVIRONMENT
M.V. Balakhanov
On the creation of a metrological assurance system for the measurement of dispersion parameters of aerosols and suspensions page 185
E.V. Davydova, V.A. Smirnov, V.V. Smirnova
Homeostasis: By what means and how to measure its characteristics? page 233
PROBLEMS OF PRACTICAL METROLOGY
E.V. Davydova, A.S. Leskov, V.A. Smirnov, D.M. Balakhanov
On the standard base for metrological assurance of the food industry page 239
MEASUREMENT BASE FOR THE INVESTIGATION OF MATERIALS PROPERTIES
V.N. Egorov, M.V. Kashchenko, V.L. Masalov, E.Yu. Tokareva, N.S. Tarasov
Works by the East Siberian Branch of FSUE VNIIFTRI in the field of dielectric measurements page 247
A.I. Mekhannikov, A.V. Novikov
Measuring-calculation microwave equipment for measuring the permittivity of ferrites and dielectrics page 274
A.V. Novikov, R.I. Ashurbeily, A.I. Mekhannikov
Synthesizing of ferrites for matсhing microwave objects page 284
PROBLEMS OF VERIFICATION ACTIVITY
L.V. Yurov
A method of considering uncertainty when verifying measuring instruments page 290
AS A MATTER OF DISCUSSION
A.A. Povalyaev
On the conceptual basis of radio navigation page 302
EPISODES IN THE CREATION OF THE TECHNICAL BASE OF METROLOGY
V.A. Tishchenko
On the anechoic chamber of VNIIFTRI page 338
FOUNDERS OF METROLOGY FIELDS
Pavel Nikolayevich Agaletsky page 342
New books on metrology page 344
Scientific publications of VNIIFTRI issued in 2008–2014       page 344
Full texts of articles are available only in Russian in printed issues of the magazine.