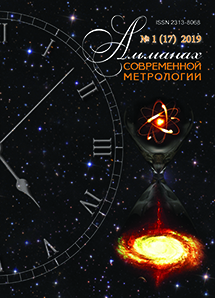 The regular issue of the Al'manac (No. 1, 2019) — first this year, is devoted to one of the development priorities of the uniformity measurement system — to the development of the reference base of the Russian Federation. The authors of the articles are the scientists-keepers of state standards, who are at the forefront of raising the scientific and technical level of state standards of units of quantities, participating in improving the quality of metrological support for priority directions of science, technology and engineering.
Scientists-keepers of standards in their articles raise the most topical issues of further development of the reference base in areas such as time-frequency, radiotechnical, hydroacoustic, physico-technical and physico-chemical measurements, measurements of ionizing radiation.
The articles highlight the results of both fundamental and applied research in metrology.
The final pages of the Al'manac are traditionally devoted to the founders of scientific metrology directions, which were also scientists-keepers of the state primary standards.
CONTENTS
PREFACE OF THE CHIEF EDITOR
S.I. Donchenko
Scientists-keepers of standards are carriers of the development priorities of the measurement uniformity system page 7
I. IMPROVING OF STATE STANDARDS
S.I. Donchenko, I.Yu. Blinov, Yu.S. Domnin, A.S. Goncharov, S.N. Slyusarev, I.B. Norets
State primary standard of units of time, frequency and national time scale GET 1-2018 page 10
Yu.A. Burenkov
State primary standard of the unit of spectral density of the power of noise radio emission GET 21-2011 page 25
A.S. Leskov
The state primary standard of the unit of the number of paramagnetic centers: yesterday, today, tomorrow page 35
V.A. Berlyand
State primary standard of units of absorbed dose and absorbed dose rate of photon and electron radiation GET 38-2011. The current state and development prospects page 44
S.F. Nekrich
Improvement of hydroacoustic standard GET 55-2017 page 63
V.I. Dobrovolsky, S.V. Prokunin
Metrological assurance of ionometric measurements. State primary standard pH page 72
II. TRANSFER OF THE SIZE OF UNITS OF QUANTITIES, TRACEABILITY TO THE PRIMARY STANDARDS
P.V. Bazylev, I.Ya. Krumgolts, V.A. Lugovoi
Reference device for reproducing the unit of attenuation coefficient of longitudinal ultrasonic waves in solid media as part of GET 189-2014 page 79
V.D. Sevastyanov
Improving methods of transferring the size of units from the state standard GET 51-2017 page 87
A.E. Isaev, A.S. Nikolaenko, A.M. Polikarpov
Underwater sound recorder calibration and traceability issues of measurements created to primary standards page 94
III. THEORETICAL STUDIES, CALCULATIONS, SELECTION OF METHODS FOR MODELING AND DEVELOPING EQUIPMENT FOR GET
V.M. Borovkov
High pressure piston gauges: mathematical modeling and realization of piston pairs with back pressure page 109
A.E. Isaev, A.N. Matveyev, G.S. Nekrich, A.M. Polikarpov
Features of the transfer of the unit of oscillatory velocity of particles of the aquatic environment in the State primary standard GET 55-2017 page 116
IV. STAGES OF STANDARD DEVELOPMENT. HISTORY
V.A. Tishchenko
Creative heritage in the field of metrology of electromagnetic fields in free space (to the 110th anniversary of the birth of V.S. Buzinov) page 137
V. PROBLEMS AND OBJECTIVES OF THE DEVELOPMENT OF THE REFERENCE BASE OF PERSPECTIVE TYPES OF MEASUREMENTS
A.M. Enyakov
Hydroacoustic measurements at megahertz frequencies. State, problems and development prospects page 159
VI. FOUNDERS OF METROLOGY DIRECTIONS
Valentina Vladimirovna Bakhvalova page 181
Vyacheslav Sergeevich Buzinov page 182
Lyudmila Nikolaevna Kurysheva page 183