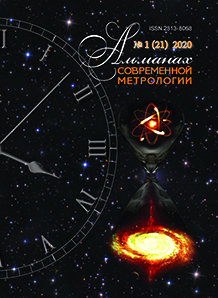 The current number of the "Al'manac of Modern Metrology" (No. 1 (21) 2020) is the first issue of this year — the anniversary one. February 18, 2020 marks the 65th anniversary from the date of the VNIIFTRI foundation. The scientific and technical journal of the institute could not ignore this date, given the importance of the event and special edition ("al-manakh" — in Arabic means "calendar").
Most of the articles of the edition, in one way or another, are connected with the results of the sixty-five-year development path of the institute, starting with the introduction of the editor-in-chief and ending with articles covering problematic issues in the field of a number of scientific areas — radio engineering, time-frequency, navigation, physico-chemical and other measurements.
The regular column of the "Al'manac" also has a jubilee profile "The founders of metrological directions". Among the luminaries presented here, there are those who celebrate the centenary after the birth this year.
CONTENTS
PREFACE OF THE CHIEF EDITOR
S.I. Donchenko
VNIIFTRI — strategic national center for metrological scientific research ……. page 12
I. METROLOGY AND METROLOGICAL SUPPORT. HISTORICAL PERSPECTIVE
S.I. Donchenko, A.N. Shchipunov, M.V. Balakhanov
Development of the system of scientific metrological schools ……. page 16
II. COSMIC GRAVIMETRY. FUNDAMENTAL RESEARCH
V.I. Pustovoit, S.I. Donchenko, O.V. Denisenko, V.F. Fateev
Concept of development of space laser gravitational antenna in GLONASS geocentric orbit «SOIGA» ……. page 27
A.N. Malimon
Quantum-mechanical interpretation of orbital movement of test body in centrosymmetrical gravitational newtonian potential ……. page 50
III. ELECTRONIC MEASUREMENTS
I.M. Malay
Stages of creation and perspective directions of development of metrological support in the field of radio-electronic measurements ……. page 65
IV. TIME-FREQUENCY AND NAVIGATION MEASUREMENTS
I.V. Bezmenov
Orbit estimation of GLONASS and GPS navigation satellites in ultra-rapid regime in FSUE "VNIIFTRI" ……. page 83
S.L. Pasynok
Current development trends of Earth'sorientation parameters evaluation and predicting facilities ……. page 101
V.P. Sysoev, Y.S. Samohvalov, S.N. Ovchinnikov, N.I. Nesterov,N.M. Grachev, M.I. Alekseev, V.P. Nagirniy, A.A. Shatalov
Development of transportable hydrogen quantum clock a new generation ……. page 116
O.V. Kolmogorov, A.V. Deikun, E.V. Chemesova
Installation for measuring signal propagation delays in optical elements ……. page 126
V. THERMAL VALUS MEASUREMENTS
S.M. Osadchii, B.G. Potapov, A.A. Petukhov, K.D. Pilipenko, Ya.E. Razhba
Realization of the triple point of oxygen for capsule type thermometers ……. page 136
VI. METHODS FOR MEASURING IONIZING RADIATION
A.V. Ianushevich, V.D. Sevastianov
On the possibility of using the v̅SF fission constant for determining flow of open radionuclide sources of 252Cf neutrons ……. page 148
VII. HYDROACOUSTIC MEASUREMENTS. RESEARCH ISSUES
A.E. Isaev, Yu.M. Aivazian, A.M. Polikarpov
Problems of research of acoustic properties of materials by methods of near field ……. page 163
VIII. WORKING STANDARDS. REFERENCE MATERIALS
S.V. Prokunin, V.I. Dobrovolskiy, L.V. Galkina, D.A. Vengina
Development of technology for producing working standard of calcium ion activity for the verification of ion-selective electrodes ……. page 197
T.P. Stolboushkina, A.A. Staheev
Reference materials or methods with inductively coupled plasma (ISP-SO), developed in FSUE "VNIIFTRI" ……. page 203
M.B. Kuvykina, N.P. Trotsenko, A.S. Leskov
Development of measures of standard spectrum for EPR spectrometry based on Morion quartz monocrystal ……. page 209
IX. METHODS FOR CONTROLLING THE ENVIRONMENT, SUBSTANCES AND MATERIALS
N.M. Justus, V.I. Dobrovolskii, K.I. Dobrovolskii
Opportunities of FSUE "VNIIFTRI" in the field of measurements of meteorological parameters ……. page 213
A.V. Aprelev, E.V. Davydova, V.A. Smirnov
Method for detecting cyanidine-3-o-glucoside in non-alcoholic drinks, juices and red wine ……. page 218
X. THE FOUNDERS OF METROLOGICAL DIRECTIONS
Evdokia Vasilievna Zolotykh ……. page 226
Nikolay Alekseevich Telpukhovskii ……. page 227