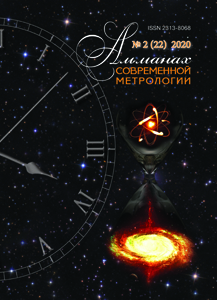 The regular issue of the "Almanac of Modern Metrology" is 2 (22) — the second issue of this year.
2020 is the anniversary year for VNIIFTRI, founded on February 18, 1955. The first issue of the Almanac of this year is dedicated to this event. The second issue also contains articles prepared for the anniversary date. They cover the issues of international comparisons of state standards, their use in the development of measuring equipment.
The problems of practical metrology in the development of food control methods are discussed. The traditional column "The founders of metrological directions" is represented by the luminaries of domestic metrology — Dmitry Nikolayevich Astrov and Semar Setovich Sekoyan.
CONTENTS
FOREWORD OF THE CHIEF EDITOR
S.I. Donchenko
The role of the system for ensuring the uniformity of measurements in increasing the level of economic sector development ……. page 8
I. METROLOGICAL SUPPORT
F.I. Khrapov, A.A. Pankov
Planning of works for metrological support of products at commencement for production ……. page 11
I. METHODS AND MEANS OF ACCURATE MEASUREMENTS
V.F. Fateev, D.S. Bobrov
Investigation of the possibility of calculating geopotential derivatives from digital terrain maps ……. page 18
V.P. Lopatin, V.F. Fateev
Concept of the development and application of GNSS-reflectometry ……. page 29
M.M. Murzabekov, V.F. Fateev, A.V. Pruglo, S.S. Ravdin
Results of astromeasurements of a plumb inclinations using a new method of measurements ……. page 42
E.A. Rybakov
Method of increasing the positioning accuracy by measuring the parameters of the gravitational field based on moment functions ……. page 57
V.F. Fateev, R.A. Davlatov
Analysis of the possibilities of a space gradientometer on free masses ……. page 65
III. TIME-FREQUENCY MEASUREMENTS
R.S. Kobyakov, S.Y. Medvedev, K.G. Mishagin, A.V. Naumov, I.Y. Blinov
Development of DPN modem with selectable carrier frequencies, first results of measurements ……. page 73
IV. RADIO ENGINEERING MEASUREMENTS
V.V. Makarov, A.V. Kleopin, L.N. Selin, IA.M. Rusin, M.A. Zenchenko
Research of the influence of the delay of remote control commands for radio measuring devices on the results of determining the characteristics of oscilloscope calibrators ……. page 83
E.F. Khamadulin
The measurement of pulsed radio interference ……. page 90
V. HYDROACOUSTIC DEVICES AND SYSTEMS
A.E. Isaev, A.N. Matveev, A.M. Polikarpov, I.V. Chernikov
To the issue of sound absorption of metrological water tank ……. page 99
A.E. Isaev, A.S. Nikolaenko, A.M. Polikarpov
Calibration of hydroacoustic recorder under conditions of laboratory water tank with reflecting sound borders ……. page 112
VI. DOSIMETRIC AND SPECTROMETRIC METHODS OF MEASUREMENT AND CONTROL
A.A. Gromov, A.P. Zhanzhora, O.I. Kovalenko
Issues of ensuring efficiency of dosimetric measurements during radiation processing of food products ……. page 171
M.B. Kuvykina, A.S. Leskov, V.P. Tenishev
EPR-spectrometry dosimetric system based on absorbed dose rate standard and standard of paramagnetic centers quantity ……. page 185
VII. PRACTICAL METROLOGY ISSUES
A.A. Stakheev, T.P. Stolboushkina
Measurements of sulphur, phosphorus and nickel in biological samples by atomic emission spectroscopy method on the example of beef liver ……. page 189
A.V. Aprelev, E.V. Davydova, V.A. Smirnov, A.A. Pryadka, E.A. Lavrov
Development of a method for detecting synthetic dyes in red wines ……. page 193

VIII. CONGRATULATIONS TO ANNIVERSARY CELEBRANTS
Adolf Alekseevich Ulyanov ……. page 200
IX. THE FOUNDERS OF METROLOGICAL DIRECTIONS
Dmitry Nikolayevich Astrov ……. page 203
Semar Setovich Sekoyan ……. page 204